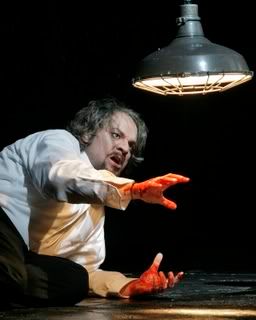 (Posted this afternoon on the TONY Blog, slightly tweaked.)
We were less than impressed with the highly touted, immensely hyped new production of Donizetti's Lucia di Lammermoor that opened the Metropolitan Opera's current season last month: Dull sets, uninspiring direction and uneven performances resulted in a presentation effectively salvaged single-handedly by the leading lady, Natalie Dessay. Interestingly, almost exactly the reverse is true of the season's second premiere, a new take on Verdi's Macbeth directed by Adrian Noble, formerly of the Royal Shakespeare Company. The production, which opened on October 22, isn't perfect, but it's got a whole lot going for it—and this time, it's the leading lady who's nearly redeemed by the show, rather than the other way around.
As Lady Macbeth, soprano Maria Guleghina generated no small amount of excitement in seductive scenes of nightie-clad writhing and clutching. Less noteworthy was Noble's decision to have Guleghina play Lady Macbeth's drinking song like a cavorting socialite starring in an impromptu parlor production of Carmen.
Unfortunately, wayward is the best way to describe Guleghina's vocal production: Shrieks, wobbles and affected growls filled in for notes that simply weren't there. Almost everyone believes Guleghina is possessed of a substantial voice and is capable of greatness; here, what was proved is that she definitely has substantial presence and is capable of loudness. (There are those in every Met crowd for whom little else matters—they were the ones bellowing "Brava" after each shattering near-climax.)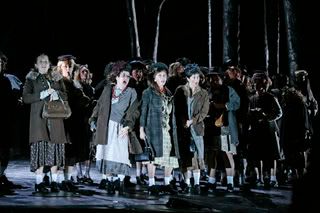 That said, there were still plenty of reasons to praise this new presentation. Mark Thompson's stage design looked something like a dark, cutaway fishbowl, with trees, pillars and windows that descended as needed—a versatile set that proved suitably claustrophobic for Verdi's darkest opera. Thompson costumed most of the cast in World War II–era military garb, complete with ubiquitous automatic rifles. The witches, ostensibly patterned after photography by Diane Arbus, looked like a gaggle of demented church ladies.
When the crones made their prognostications, their faces were eerily illuminated by bulbs hidden inside their clutch purses. Whether this was Thompson's idea or that of lighting designer Jean Kalman, it was an effective touch. (Certainly more effective than Noble having the younger witches mime dry-heaving to concoct the potion Macbeth drinks to achieve his visions. Um, we'll have water here, thanks.) Those visions included the spectacular sight of Banquo's progeny depicted in the form of life-size gold medallions that yo-yoed from the ceiling, while green lasers lit up clouds of fog like nothing you've ever seen outside of a Laser Pink Floyd show.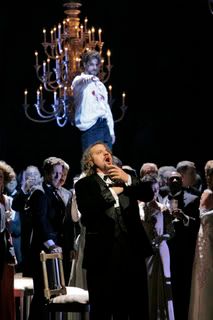 Baritone Željko Lučić was a powerful Macbeth: conflicted, superstitious and driven. His insightful acting was matched by a voice that was solid and handsome from top to bottom, from whisper to roar. Bass-baritone John Relyea, one of the Met's most dependable character actors, was a striking Banquo before his murder, and a gaunt, creepy spectral presence thereafter. Tenor Dmitri Pittas was a clear, bright Macduff, pleasing if not especially commanding. And the tiny role of Duncan might not have earned tenor Russell Thomas a bio blurb in the program, but his exciting clarion sound was what we were talking about as we made our way up the aisle and out into the night.
One can always quibble about choices of tempo, but James Levine drew a powerful, nuanced performance from his orchestra. And the Met chorus was in extraordinary form in this, an opera that absolutely depends on a strong choral contribution.
You've got two more chances to see this cast before the production comes down for a few months: this Friday (October 26), Halloween night and November 3. Macbeth returns in January with the veteran baritone Lado Ataneli in the lead role; late in that run, Andrea Gruber takes over for Guleghina—not exactly an improvement, based on recent encounters, but it's always wise to be charitable. Three final performances next May could be best of all, when Gruber is joined by Carlos Alvarez in the title role, René Pape as Banquo and Joseph Calleja as Macduff.